3 Railroad Employees Missing After Head-On Crash in Texas
Two BNSF freight trains slammed into each other on the same track outside of Amarillo TX, with at least one railroad worker injured and three missing. 
According to a spokesman for the Carson County TX sheriff's office, the chances of finding the missing crew members alive is low.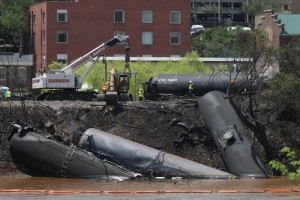 The two train crash happened at 8:25 central time on Tuesday near Amarillo. The trains were carrying consumer goods and the wreck happened on the main line, which is called the Southern Transcon that connects Los Angeles with Chicago.
Experts say that while the investigation is in the early stages, it appeared that this type of accident could have been prevented if positive train control technology had been used. Railroads got an extension last year on implementing PTC until 2018, after most railroad were unable to meet a 2015 deadline. The system is designed to stop trains automatically when they are in an incorrect position or do not observe traffic signals.
BNSF stated that it intends to install PTC on the section of track where the accident happened.
Our View
Our hearts go out to the families of the injured and missing men in this train accident. As railroad accident attorneys, we know that many railroads have been delaying the implementation of PTC to save money. As I once wrote, this is an absurd argument when you consider the costs of upgrading safety equipment compared to the costs associated with the type of train crash above.
It is estimated that 20 year installation, testing and maintenance costs for PTC would be as much as $24 billion. That is a great deal of money, but the above wreck is going to cost BNSF millions and millions of dollars in property damages and government fines. Also, there will almost certainly be very expensive wrongful death lawsuits for the men who are missing and presumed dead.
Our railroad accident attorneys think that railroads should put PTC systems into their trains and infrastructure as soon as possible, even if profits are reduced for a few years. Such actions would help railroads to avoid massive lawsuits that can cost them millions of dollars. 
Tags:
positive train control
,
train crash