A Pike County, Indiana truck driver suffered serious but non-life-threatening injuries when his tractor trailer was hit by a train at a railroad crossing near Winslow IN.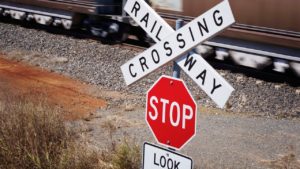 The truck driver was driving southbound on SR 61 in a truck owned by C&M Giant Tire when a Norfolk Southern train struck the truck at the crossing. The railroad crossing has warning lights and crossbuck signs but no descending gates.
The injured truck driver was able to get out of his truck on his own and he was taken to a local hospital for his injuries.
The sheriff's department is investigating the accident and no report has been issued at this time.
Our View
Railroad crossing accidents are common across America, and our railroad accident attorneys frequently represent drivers who are injured at railroad crossings. Our Virginia railroad accident attorneys once represented a driver whose care was struck by a Norfolk Southern train in Prince William County, VA. The freight train appeared suddenly and smashed into the rear of his vehicle. His children suffered head injuries and we filed a personal injury lawsuit against the railroad.
Railroad crossing accidents are complex and our strategy was to take careful measurements and pictures of the accident scene. The train crew was not required to blow its whistle at that crossing. We also looked closely at the vegetation and brush at the railroad crossing. This was important because the driver said that the train appeared suddenly and he had no time to get his car clear of the tracks.
We demanded a settlement from the railroad and from State Farm, which led to a good-sized settlement that helped to pay for the medical needs of our client's children.
A driver who is hurt by a train at a railroad crossing should consult with an attorney experienced in railroad accidents. There can be a number of factors involved that can make the railroad liable for injuries.