Railroad Crossings Caused 90 Accidents in Alabama in 2015
When a 30 car train hits a car, the vehicles hit each other with the same amount of force as a car smashing an aluminum can. It is that type of force that leads to more than 2000 accidents with many injuries and deaths at railroad crossings around the country each year. Ninety of those were in Alabama in 2015, according to Alabama Operation Lifesaver. 
Alabama has 6000 railroad crossings and 3500 miles of tracks. This means that drivers and pedestrians encounter railroad crossings every day. Operation Lifesaver Alabama travels the state regularly on a 40 city tour to educate citizens about the importance of railroad safety for drivers and pedestrians.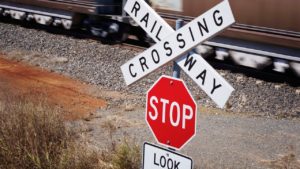 Operation Lifesaver says that it has helped to cut down car/train accidents across the US from 12,000 in 1972 to 2059 in 2015. Even though the number of accidents has declined, Alabama still ranks #6 in the US for the number of accidents each year.
While Operation Lifesaver says it is very important for drivers and pedestrians to pay attention and to stop at railroad tracks, it also is important for railroads to make sure the safety lights and gates at crossings are working, and that the grass, trees and brush are cut so that drivers can see oncoming trains.
Our View
Railroad crossing accidents can lead to serious injury or death. If you or a loved one was in such a railroad accident, we want you to have as much information as possible. There are many federal and state rules that affect the duties and responsibilities of the railroad company and crew that are using that railroad crossing. Some of the accidents that occur at railroad crossings are due to train engineer or railroad company error. 
One area where a train engineer can cause an accident is speeding through a railroad crossing; federal rules limit how fast trains can go through railroad crossings. Also, federal regulations apply regarding when a  horn or whistle must be blasted at a crossing. Further, trees, shrubs and vegetation at a railroad crossing must be trimmed so that drivers have an unobstructed view.
In short, railroad crossing accidents are very complex legally, and anyone in such an accident should speak to an experienced railroad accident attorney. Large settlements are possible in many railroad crossing accidents. 
Tags:
operation lifesaver
,
railroad crossing
,
train crossing accident