A Long Island, New York Rail Road commuter train crashed at the end of a platform on Jan. 4 as it pulled into a station, hurling passengers to the floor and slamming them into one another. 
The front of the slow moving commuter train hit a bumping block as it was pulling into Atlantic Terminal in Brooklyn. The train left the tracks and slammed into some railroad work equipment. A rail also pierced the floor of one of the train cars.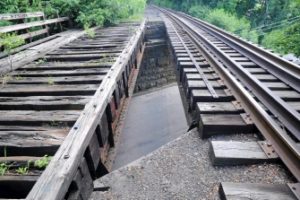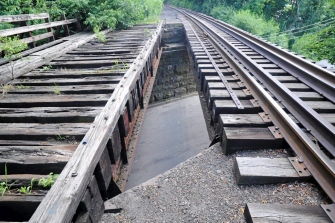 Approximately 100 people were treated for non-life-threatening injuries. Many had been standing up, waiting to get off the train as it slowed.
Many people were carried out of the train on stretchers. Others sat stunned on the pavement, holding ice bags to their heads and bleeding.
The National Transportation Safety Board is investigating the cause of the train crash.
Our View
Our Virginia railroad accident personal injury attorneys studied this Long Island train accident, and will be watching closely for the NTSB's conclusions on the cause of the crash. This train crash bears similarities to the train crash that happened in Hoboken, New Jersey last year. In that case, the train engineer may have lost consciousness as the train was pulling into a station. That crash killed one and injured dozens of others.  Here, the railroad's own track maintenance personnel may have been involved in the cause of the terrible crash, time will tell.
In the Long Island commuter train crash, it is possible that the engineer had a medical emergency or was distracted by something as the train pulled into the station. This could have been prevented if the train had been equipped with Positive Train Control (PTC), which would automatically stop a train before it is able to run a red signal orproceed at high speeds into a  dangerous situation, because PTC is capable of automatically slowing a train's speed. The railroad industry has lobbied to delay federal mandates on installing PTC on train until 2018.  We fully appreciated that these safety improvements will cost substantial monies, but the railroads must be forced to make concrete strides in moving forward with PTC systems.
Anyone who was injured in the Long Island train crash could have injuries that could take months or years to recover from. In that case, filing a personal injury lawsuit could be appropriate. With appropriate legal guidance from a railroad accident attorney, a railroad accident personal injury lawsuit can result in compensation that can be used to help the injured to recover from their injuries, and to compensate them for lost work time.  Our railroad injury law firm lawyers have handled dozens of prior railroad derailments and light rail prior injury cases, throughout the eastern USA and have the knowledge and experience necessary in these type of cases.
A Long Island Railroad commuter train that crashed in Brooklyn on Jan. 4 was traveling at double the speed limit when it slammed into the train station. More than 100 people were hurt, according to federal investigators. 
The train was going more than 10 miles per hour when it smashed into the end of the tracks at Atlantic Terminal in Brooklyn. The speed limit there is five miles per hour. The NTSB is continuing to investigate the crash and has not yet determined the final cause.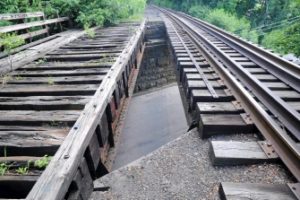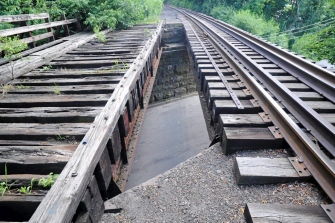 The train smashed into a bumping block during the morning rush hour. The train then hit a room beyond the railroad track and caused two cars to derail.
The engineer who was operating the train said that he could not recall the crash. Investigators stated that the engineer was very experienced, having started in 1999 at the railroad. He had started working at midnight and was near the end of his shift.
The NTSB noted that positive train control was not in place on the tracks where the crash happened. This is an automatic train safety control system operated by GPS that can slow trains automatically to avoid hazardous situations. PTC could have been installed on these particular tracks but they have not been.
Our View
Our railroad personal injury attorneys have long said that we want to see commuter rail lines in the US fitted with PTC as soon as possible. However, railroads have lobbied congress to delay implementation of PTC until 2018 at least. We hope that this technology is speeded up and installed on commuter lines and trains immediately.
When trains have safety problems and derail, the injuries can be terrible. We once represented a man who suffered massive brain injuries when a train in Hampton, Virginia derailed. It slammed into his gas station. The man's family chose our firm because of our experience in handling major train derailment accidents. We were glad to have gotten a verdict for the man of $60 million, but we would like to see these railroad derailments never happen again.
A fatal crash and derailment between two Union Pacific trains in Arkansas on Aug. 17, 2014 was the result of a tired engineer and conductor who were likely both asleep on at least one of the trains, according to federal investigators this month. 
The dual train crash happened in Hoxie, Arkansas, and the NTSB reported that it could have been prevented by positive train control (PTC), a form of automatic braking operated by GPS, which Congress has mandated to be in place by 2018.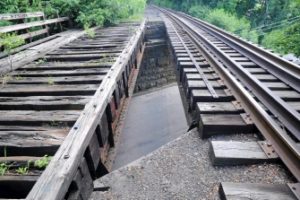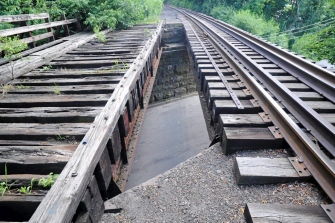 The train crash in Arkansas derailed 55 cars and killed a total of two people  – both crew members on different trains.
The NTSB stated that the southbound Union Pacific train hit the northbound train as it was turning onto another track. The southbound train passed two warning lights and a red signal, but did not slow down. There was no activity in the cab of the train before the wreck.
The board did not find the northbound train at fault. Several people on that train were seriously injured.
The engineer in the northbound train had moderate sleep apnea that was diagnosed in 2010.
Our View
We wrote about this fatal train crash in Arkansas when it happened. Our Virginia and North Carolina train crash attorneys have long been baffled that railroads have delayed the installation of PTC on their trains. PTC would automatically stop a train before it can run a red signal or get into another situation that endangers human life.
The Federal Railroad Adminsration states that PTC could stop 52 train crashes each year. We hope that railroads will implement PTC before the 2018; it will save lives.
Our personal injury attorneys are experienced in wrongful death and personal injury claims in train accidents. The need for robust state laws involving personal injury recoveries could not be more demonstrated by nationwide railroad highway grade crossing crash cases. While the federal laws provide for it national railroad system, when persons are harmed or killed in railroad crashes, the state laws system supplies the right of recovery for persons that suffer injuries caused by negligence.