Cancer including mesothelioma that is linked to asbestos exposure has been found to kill Maine residents at the fastest rate in the country, according to the US Centers for Disease Control and Prevention. 
A March 2017 CDC report on mesothelioma and asbestos has brought new focus onto the many dangerous of asbestos exposure. Researchers in that study found that from 1999-2015, the annual death rate due to malignant mesothelioma in Maine was 22.06 per million residents. That is the highest rate in the country. The state of Washington was the only other state that was above death rates of 20 per million.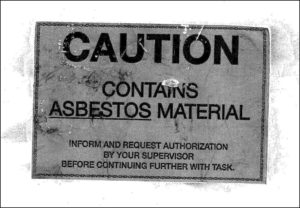 Across the US, 45,221 people who were mostly male died from mesothelioma in that time period. Mesothelioma is a terrible and incurable cancer of the lining that surrounds the major organs, including the lungs, heart, and digestive organs. It is normally fatal. The sole cause of mesothelioma is exposure to asbestos, most commonly in industrial related work decades ago.
The CDC report determined that there was a 4.8% increase in mesothelioma deaths in the above time period. Health officials noted that most of those deaths were in those over 85. This suggests that the asbestos exposure happened long ago. Mesothelioma usually takes 20 to 50 years to develop in people who have been exposed to asbestos fibers.
The report shows that mesothelioma is still claiming many American lives, even though it has been 45 years since the US started to regulate how workers are exposed to asbestos. The EPA currently bans the use of asbestos in many products, but it still is permitted in some products, such as roof shingles.
The CDC stated that mesothelioma deaths have dropped in people under 55. But the fact that there still are deaths shows that some workers still are getting exposure to asbestos.
In the case of Maine, the majority of mesothelioma cases are first diagnosed from the ages 55-84. The CDC report focused on job site exposure to asbestos, but the substance occurs naturally in soil and rock. The study noted that some common Maine industries are higher risk for mesothelioma, such as construction, ship and boat building. 
Maine's homes are also some of the oldest in the US; at least 31% were built prior to 1950. Thus they are more likely to contain asbestos fibers. Materials that have asbestos in them do not usually pose a health risk as long as they are not disturbed. but any renovation or demolition work can cause the deadly fibers to be released into the air.
Our View
Our railroad attorneys have handled many mesothelioma and asbestos cancer cases involving railroad workers, who were exposed to asbestos insulating materials which was prevalent on railroad for decades, on steam engines, diesel engines, railroad work places and railroad equipment. The study in the state of Maine has shown that workers with exposure in shipbuilding or other industries that were heavy users of asbestos insulating materials, have been stricken with asbestos cancers 30 to 50 years following their exposures. The same findings apply with railroad workers handling asbestos insulating materials, These workers are turning up with terrible mesothelioma cancer or asbestos related cancers decades after their exposures.
Our railroad mesothelioma attorneys are concerned that the rate of mesothelioma deaths is on the rise. If you or a loved one are suffering from mesothelioma, we suggest that you download our free guide Understanding Mesothelioma and the Devastating Impact of Asbestos on Railroad Workers. This guide will provide you with a good overview of your legal options. You may be able to file a personal injury or wrongful death lawsuit to obtain compensation for injuries associated with asbestos exposure.
A 59 year old man was killed on March 12 in Longmeadow, Massachusetts when his work truck was struck at a railroad crossing by an Amtrak plow train. 
The death of the man at the railroad crossing has brought up many worries and complaints from many in the community. Many feel that there should be additional safety features at that railroad crossing, which is in Longmeadow at the crossing on Bernie and Pondside Road.
There is a stop sign at the railroad crossing and a railroad crossing sign. However, residents say the lack of traffic signals or gate arms are a serious danger at the crossing. Most of the other crossings in the area have those safety features.
There have been other ftal crashes at this crossing, and now the Longmeadow town manager is talking about adding those safety measures at the crossing.
He noted that the Department of Public Utilities in Massachusetts has the responsibility and authority to add safety features.
Our View
Safety at railroad crossings has improved substantially over the years. Back in 1981, there were 728 deaths at US railroad crossings. That had fallen to 233 by 2015, despite the substantial growth in the US population.
However, in 2016, the total number of deaths at US railroad crossings climbed to 265. Our railroad accident personal injury attorneys hope that this increase is temporary and is not a trend.
Our railroad accident attorneys have seen in past railroad accident lawsuits that serious personal injuries and deaths can occur at railroad crossings.
It is important to realize that while drivers and pedestrians have responsibility to stop at these crossings, there are many federal regulations in play at railroad crossings, and sometimes one of the stakeholders could be in violation of a law or rule that leads to an unsafe crossing.
Federal regulations, for example, set rules for when a train must blast its horn when approaching a crossing. Federal rules further dictate how trees, shrubs and vegetaation must be cut at a railroad crossing to ensure visibility.
The federal rules for railroad crossings are largely laid out in the Manual of Uniform Traffic Control Devices (MUTCD) and another set of standards is issued by the National Highway Traffic Safety Administration (NHSTA).
If you or a loved one have been injured or killed at a rail road crossing, it is important to understand that railroad crossing accidents are very complex. In the case of personal injury or wrongful death at railroad crossings, we employ retired railroad workers as investigators to get to the bottom of the case.
Many people who are seriously injured or killed at railroad crossings are entitled to substantial financial settlements due to negligence on the part of a stakeholder, such as the railroad or the local authority that maintains the crossing.