A jury in Tyler, Texas awarded more than $8 million to a truck driver from East Texas who suffered serious injuries in a railroad accident in May 2015.
The truck driver was injured while he was unloading a feed truck into a train car at a trans-loading facility in Mt. Vernon, Texas. The railroad conductor told the truck driver to get on the top of the train car, but he then moved the car without telling the truck driver. He fell more than 15 feet and suffered serious personal injuries that left him without the ability to work.

The key moment in the personal injury lawsuit came when the conductor provided contradictory testimony regarding the accident.
The man who was injured told the media that he was relieved that he had been compensated for his injuries so that he could begin the healing process.
Our View
Our railroad injury and personal injury attorneys in Virginia are pleased that this injured truck driver received ample compensation for his railroad accident injuries. In the type of railroad work accident described, it is very important that the railroad conductor and the truck driver communicate clearly to avoid a serious accident. Because that did not happen, the truck driver is now dealing with life-changing personal injuries.
Personal injury lawsuits constitute the majority of civil lawsuits in the United States. Many of these accidents occur on the job and can often be avoided.It is important to avoid workplace accidents because they, of course, injure workers, but also cost companies a lot of money. Here are some tips to avoid workplace accidents:
Have a safety and wellness plan. This is the foundation for a safe workplace. The program should cover all aspects of employee safety and health. The above case could have been avoided if there was a protocol in place to prevent the train car from being moved when someone was on top of it.
Educate staff. It is important to constantly cultivate a culture of safety with employees and management. There should be regular training about the importance of following safety procedures to prevent personal injuries and lawsuits.
Study safety vulnerabilities. Every business and industry are unique, so you should ensure that you study the ways that accidents can happen in your specific workplace. That way you can avoid them.
If you were injured in a workplace or other type of accident, you may be able to receive compensation if someone acted negligently, as in this $130,000 neck injury settlement we handled a few years ago.
At least 17 of the top commuter and intercity railroads will receive millions of dollars in funding from the US government to increase rail safety with automatic braking systems that are intended to automatically slow down trains that are in potentially dangerous situations.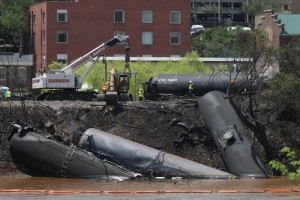 The Department of Transportation stated last month that it would issue $197 million in funding after commuter railroads have opposed looming deadlines to implement the safety systems, known as positive train control or PTC.
Congress ordered PTC to be implemented by 2015, but commuter rail systems complained that they lacked the funds to meet the date. The new deadline is now the end of 2018. The new federal funds should help the commuter rail lines to meet the new deadline for PTC, which could reduce the chances of train crashes and derailments. 
Some of the busiest commuter rail lines in the country welcome the funding infusion.
In Florida, the Southern Florida Regional Transportation Authority will get $32 million to install PTC. This is the second-highest tranche of funding for a single commuter rail group. The Tri-Rail commuter line is 72 miles long and runs through the crowded Palm Beach, Broward, and Miami-Dade counties. Also, the Florida Department of Transportation will receive nearly $2 million funding for the Central Florida Rail Corridor.
According to Federal Railroad Administration Executive Director Patrick Warren, the federal funds for PTC installation will help some of the busiest commuter railroads in the country to improve rail safety for millions of train passengers every day.
In recent years, there have been several possibly preventable train crashes in which PTC could have been a lifesaver. In Hoboken, New Jersey in 2016, a commuter train smashed into a major commuter train station, killing a woman and injuring 100 other people. The train was shown to have been moving at double the intended speed. A PTC system could have automatically slowed the train so that it could have entered the terminal normally.
Our View
Research indicates that the implementation of positive train control can lead to a reduction in train-to-train crashes, derailments due to excessive speed, train movements through malfunctioning train switches, and unauthorized entry of trains into work zones.
Our railroad accident personal injury attorneys in Virginia and North Carolina would like to see PTC installed as soon as possible on commuter train lines. There is no doubt that positive train control systems will lead to a reduction in train crashes and derailments that lead to serious injury and death, personal injury lawsuits, and wrongful death lawsuits. 
Work is continuing in Virginia to install Positive Train Control (PTC) onto railroad tracks that experts say could have prevented many recent, fatal train accidents, such as in Hoboken, New Jersey, and Philadelphia, Pennsylvania.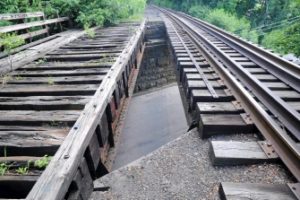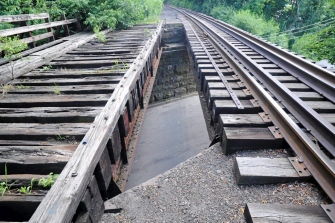 Virginia Rail Express (VRE), a popular commuter rail line in the state and in the metro Washington DC area, stated in early March 2017 that it is on track to have all trains and cab cars outfitted with PTC in the next few months. 
VRE trains are on CSX and Norfolk Southern tracks in Virginia, and Chief Executive Officer of the VRE, Doug Allen, stated last week that the commuter rail line is working with both rail companies to get PTC done.
Allen noted in a press conference that VRE is installing radios and computers, which communicate constantly with the systems being installed on all tracks. Once the system is fully operational, it will be able to stop or slow a train automatically to avoid a train crash or train derailment.
Several recent train crashes on the East Coast have highlighted the need for PTC.
In May 2015, an Amtrak train was going too fast on a curve near Philadelphia. Eight people were killed. In September 2016, a New Jersey Transit train crashed in the Hoboken commuter station, killing one. Many experts believe the train accidents could have been prevented with PTC.
VRE wants to start testing the new PTC systems by September 2017, and hopes to have the system up and running by next year.
Rail operators and rail companies have until Dec. 31, 2018 to have PTC fully operational. 
Our View
Our personal injury and wrongful death attorneys in Virginia are pleased that positive train control is soon to be fully operational on all VRE trains in the Commonwealth. PTC can likely prevent many serious train accidents and derailments that kill and seriously injure many people nearly every year.
Our personal injury rail road accident law firm has handled lawsuits where a train derailed and led to catastrophic personal injuries. Our law firm and co-counsel represented a gas station worker who suffered a traumatic train injury when a Norfolk Southern train derailed and crashed into his workplace.
The man suffered many serious, orthopedic  injuries and brain damage. The train crash verdict was $60 million with interest, and we were proud to get that case resolved so the victim could get the medical care he needed.
If PTC can prevent those types of disastrous train crashes, the system will be entirely worth the cost.