Home » Posts tagged 'lynchburg derailment'
Tag Archives:
lynchburg derailment
A former switchman for Tacoma (WA) Rail has filed a lawsuit against the railroad. He contends that the railroad created a dangerous railroad work environment that contributed to the accident that caused him to lose a leg.

Nathan Johnson, 45, from Fife WA, is seeking damages for his pain and suffering, lost wages and medical expenses. An earlier claim with the city showed that he is seeking $6 million.
The lawsuit claims that he was trying to climb into a moving rail car when he fell partially under the train. The suit further states that Tacoma Rail actively encourages employees to climb onto and off moving trains to get work done faster and to reduce labor costs. Further, the claim states that the safety appliance on the railroad car were inadequate and in violation of the Federal Railway Safety Appliance Act.
Our extensive experience in Virginia and North Carolina as railroad accident attorneys has shown that railroads often will try to avoid their liability for workers' injuries on the job. We have represented many railroad workers who have been badly injured on the job, and have been pleased to reach large settlements and verdicts for our railroad worker clients.
One of the most important things we want to stress is that railroad workers should not be afraid to take legal action against a railroad whose negligence may have led to your injury. In reality, there have been many successful personal injury lawsuits in recent years against railroads. Consult an expert railroad personal injury attorney in your state and the results can be highly favorable.
A small town in Westchester County, NY may shut down the railroad crossing where an SUV driver and five train passengers died in a disastrous railroad crossing crash last year.
The Feb. 3, 2015 train crash prompted the town of of Mount Pleasant NY to study whether vehicle traffic should be diverted from the hazardous railroad crossing at Commerce Street.
The town supervisor noted that this type of major accident indicates that the crossing could simply be too hazardous to remain open. An actual closure of the crossing would require New York state approval.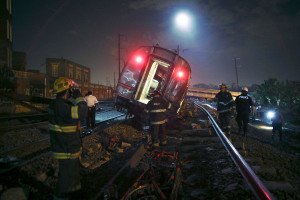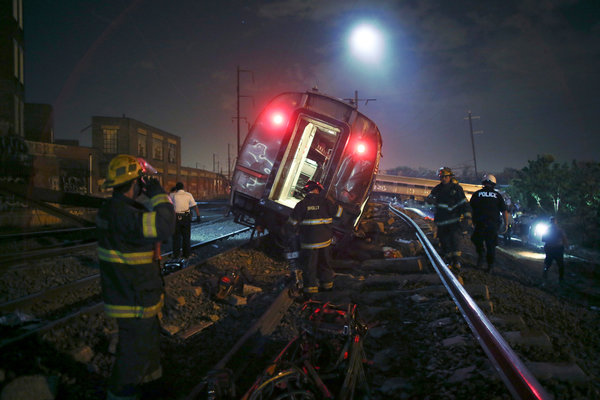 The deadly crash happened during rush hour during the week on Metro North's Harlem line, which runs from Grand Central Station in New York City into Westchester County. It also continues on into nearby Putnam and Dutchess counties.
The crash occurred when the SUV driver stopped on the railroad tracks after she had been diverted from the Taconic State Parkway after another accident.
After the train smashed into the SUV, the third rail that powers the train pierced the floor of the first train car. Also, 12 pieces of rail tore through the car, which caught fire.
More light has been shed on this crash this month, after the NTSB released many of its investigation documents about the likely cause of the crash.
The NTSB documents revealed that the traffic control system at the railroad crossing that controls stoplights was out of compliance with federal guidelines when the crash happened.
This is known as a preemption system, which is supposed to activate traffic lights as trains approach the crossing. The aim is to clear vehicle traffic from railroad tracks and to prevent accidents.
The system was not properly configured to clear track traffic coming from Taconic State Parkway, according to Steve Ditmeyer, a former federal rail official. Ditmeyer now runs a consulting firm in Virginia, and he recently reviewed the NTSB report at The Wall Street Journal's request.
He noted that the proper stoplight sequence did not occur when the crash happened, but he was not certain if it played a major role in the crash. Since the crash, the preemption system at that crossing has been changed.
Our Virginia and North Carolina personal injury lawyers have represented the families of many train crossing accident victims over the last decade. This experience has provided us with a detailed grasp of why serious injuries and wrongful deaths happen at rail crossings.
If the families of the deceased in this tragic train/car crash want to collect compensation for their pain and suffering, it is important for them to work with the best railroad accident attorney they can. In Virginia, we often retain former railroad workers–who have retired–as investigators, or retain former federal railroad administration experts, and they conduct thorough investigations of railroad crossing crashes or railroad derailments. This work gives our team unique insights into the causes of these mostly preventable accidents. That type of skilled litigation is what helped us to win a recent $1 million settlement in a Virginia train accident.
By Richard Shapiro, Virginia Railroad Accident Attorney
A section of railroad track that was owned by CSX in Lynchburg, Virginia (VA) was set to be replaced – the day after a crude oil trail derailed and broke out in flames.
The National Transportation Safety Board issued this report in late August into the derailment, which occurred on April 30, 2014. The Lynchburg oil train derailment required the evacuation of hundreds of people from downtown.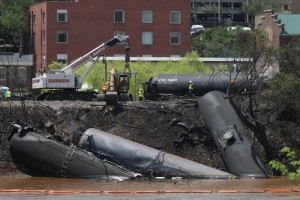 The NTSB still has not determined the precise cause of the wreck, but should by the end of 2015.
NTSB documents state that the derailment happened at a break point in the track, which means that the rail section was cracked or severed. The break was only a few inches from a repair that was made in January 2014.
The day before the oil train derailed, an inspection of the track section showed there was an internal flaw in that same rail piece. So, CSX planned to replace a 40 foot section of the rail, which was going to be installed on May 1, 2014.
The derailment is one of about nine oil train derailments that have happened in North America since 2013. The biggest and most tragic was the derailment in Lac Megantic, Quebec in July 2013 that killed 47 people.
In Lynchburg, 17 oil tank cars derailed, with three plunging into the James River and one caught on fire.
Our Virginia railroad accident law office has extensive experience in train accidents and derailments, as well as railroad crossing accidents that were due to train engineer or railroad company negligence. These often preventable mishaps can lead to injury and loss of life, although we are glad the Lynchburg incident resulted in no injuries.
We have represented workers who have been injured by railroad company negligence in the past, such as a CSX conductor who was exposed to asbestos fibers in his work for decades. That case resulted in an $8.6 million verdict.
We hope that CSX and other companies in the industry will put a better focus on safety – both for the safety of the public and the environment.