Home » Posts tagged 'railroad worker injury'
Tag Archives:
railroad worker injury
Metro-North, a major commuter railroad line in the New York City metro region, reported this week that both customer and employee injuries increased in 2015.
Statistics show that total employee injuries are up by 9.5% from 2014. Meanwhile, Federal Railroad Administration (FRA) reportable injuries have increased by 1.7%.
However, injuries for customers on Metro-North increased in 2015 by 30%.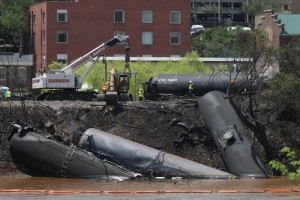 Metro-North officials said that the increase of accidents is partially caused by expanded incident reporting requirements. This was ordered by local officials after more accidents in 2013.
The statistics stated that there were 360 customer injuries on the line in 2015, which is the second most ever in a five year period. More than half of that increase was due to a major train crash in Valhalia NY, which killed six and injured 46.
FRA asked Metro-North two years ago to expand what it considers a reportable injury to customers. In the past, injury reports were anything that occurred on the train or platform. Now, customer injury statistics reflect any injuries that occur inside a terminal.
Regarding employee injuries, while the FRA reportable injuries were up only 1.7%, total employee injuries were up by over 9%. The rail line believes that could be attributed to its implementation of the Confidential Close Call Reporting System, which allows employees to report safety issues privately.
Our railroad injury attorneys in Virginia Beach are glad to see that there is a stronger emphasis at Metro-North on employee and public safety. As our attorney Richard Shapiro wrote in  72 American Jurisprudence Trials, found in most of the nation's law libraries,  on page 37, preventing railroad injuries requires strong regulations, railroad emphasis on safety and more:
"The prevention of injuries requires effectively implemented railroad safety and health programs, union support, and an appropriate level of governmental regulation. Railroads, unions, and the government share the common goal of reducing casualties in the railroad industry. In addition, all seek to ensure that injured employees are adequately and appropriately compensated. All of these are a part of national efforts to prevent injuries among railroad employees. There has been friction between the railroads and the workforce as to whether railroads are "reporting" all worker injuries or illnesses to the FRA as legally required."
As the treatise also notes, injuries are not usually FRA reportable unless the injuries require medical attention or prescription medication.
As we have seen in some of our railroad worker injury cases, serious injuries can occur when the railroad neglects safety, such as this $825,000 settlement where the railroad worker suffered a serious injury due to a loose ladder on a train car.
Norfolk Southern Railway Company has filed a motion to dismiss a lawsuit against it, alleging that a former employee has falsified a workplace injury.
The former railroad worker filed his workplace injury lawsuit in September 2015, but Norfolk states that the federal court in which it was filed lacks subject matter jurisdiction.
The man claims that he was working for Norfolk in March 2012 when he tried to release a hand brake and hurt his back, which was diagnosed as a severe lumbar sprain.

When he asked for an injury document from the railroad because he was immobile, the company would not do so. He also claims that Norfolk obtained unauthorized medical records from his hospital while he was undergoing treatment. The company then accused him of falsifying a work injury through letters and also requested a hearing for not promptly reporting the injury.
The complaint also alleges that the worker was not paid for his 2010 time slips, and after he had recovered from an eye injury, he was not allowed to go back to work by the company's doctor.
Our FELA attorneys in Virginia Beach have represented many former railroad workers who suffered injuries on the job. While we cannot comment on whether or not the man in the case above falsified his injury, we do know that railroads will try their utmost to deny rightful claims for injured workers.
We represented a railroad worker who was injured in April 2003 when he was walking along a railroad track checking air brakes on a train. His foot suddenly fell into a depression in the ballast rock. This caused a serious lower back injury. He was subsequently totally disabled from his work at 37 years old.
Our law firm in Virginia determined what had caused the sudden depression in the ballast rock by retaining a hydro-geologist who examined the water flow in that region. We were able to prove that the track was constructed improperly which led to small voids and open gaps in the ballast rock. We settled that case for $900,000.
A former railroad car inspector in Philadelphia PA whose workplace injuries forced an early retirement won a $597,000 verdict by a jury.

The former railroad worker had to end his employment after 38 years with CSX Transportation in June 2013 because of various shoulder and knee injuries that resulted from having to handle heavy objects in unusual positions for years.
The worker filed the lawsuit against CSX and also Consolidated Rail Corp, alleged that both companies had violated the Federal Employer Liability Act.
The defendants argued that the man's injuries were because of age and a thyroid condition. They also challenged that he could have worked until age 67. Further, the defense questioned if the man really was that injured because he still ran 5k races before and after his employment ended. His attorney countered that running straight forward is not a problem for the man, rather side to side motion causes pain.
An ergonomics expert stated in the trial that the 220 pound equipment that he had to lift on his own should have been handled by two or more workers.
Our Virginia railroad injury attorneys know all too well the tricks and and tactics that railroads attempt to use to deny legitimate railroad worker injury claims. That is why we have written this guide – A Railroad Worker's Rights When Injured on the Job. If you have suffered an acute or chronic railroad worker injury, be sure to download this guide so that you know your legal options. We routinely represent injured railroad workers in Virginia, and recently had this $825,000 settlement.
We also have written another guide called What Railroad Claim Agents Don't Want You To Know. This guide will help you to know the types of deceptive tactics that railroad claim agents may use to deny your railroad workplace injury claim.