Home » Posts tagged 'railroad'
Tag Archives:
railroad
A long Island Railroad work train sideswiped a New York passenger train on the evening of Oct. 8, injuring 30. 
While there were no life threatening injuries reported, Nassau County Executive Ed Mangano did stated that some of the injuries included broken bones and concussions.

The passenger train involved in the railroad crash was the train that leaves at 8:22 from Penn Station in New York. The rail accident happened after 9 PM. The crash caused the first three cars of the passenger train to derail.
Mangano said the crash happened near a switch, but is was unclear if a switch malfunction led to the crash and derailment.
Our View
Our railroad injury personal injury attorneys based in Virginia are relieved that there were apparently no life threatening injuries in this train crash. However, there were serious personal  injuries reported and we hope all of the injured passengers recover.
As personal injury lawyers who have won record-setting verdicts in train derailment cases, there are far too many train accidents across America that occur due to lapses in safety. Earlier this month, a serious commuter train crash occurred at a busy station in New Jersey, killing one and injuring more than 100.
Human errors usually have something to do with the cause of serious railroad accidents and train collisions. Nonetheless, the railroads are seeking to downsize train crews on commuter railroad  crews to a single engineer or operator but the leaves no fail safe if that person is distracted, falls asleep, or otherwise fails to act appropriately with regard to safety.
A slightly less effective fail safe is positive train control that will automatically stop a train under certain circumstances but the railroads of course have to delayed implementation and tried to water down implementation to less than 100% of the railroad or commuter lines in the nation. The public need not wonder whether positive train control would have made a difference in many of the major railroad and commuter line accidents and tragedies that happened in the last several years.
In both of the train crashes, it appears that safety issues led to serious accidents.  One important safety feature that could prevent some collisions and derailments is Postive Train Control or PTC. This system is based on GPS technology and would automatically stop a train if a collision were imminent. Railroads lobbied Congress to push back the date to install PTC on all commuter trains until 2018. That's too bad, because it is possible that these two serious train crashes may have been avoided with better safety techology in place.
Many commuter and freight railroads continue to be slow to adopt safety technology that could prevent deadly crashes and derailments. This is in spite of the fact that that Congress has mandated that railroads install positive train control or PTC.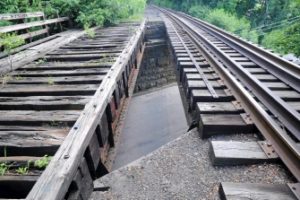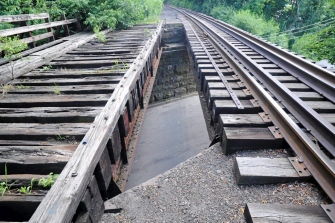 PTC uses digital radio signals, GPS and signals on tracks to monitor the position of trains. It has the ability to automatically stop or slow a train to prevent it from disobeying a signal. This has the potential to prevent derailments and serious accidents, including trains entering tracks that are closed for maintenance.
According to the Federal Railroad Administration, some railroads have made some progress, but many others have yet to equip a single train or track with the technology.
Congress passed the law in 2008 which gave railroads seven years to install PTC. Last year that deadline was extended for three more years. But according to Sarah Feinberg, head of the FRA,, railroads should not delay in installing the technology. Every day that goes by without PTC, she said, we are risking another serious train accident.
As of summer 2016, PTC is installed on 9% of freight route lines and 22% of passenger rail lines. Freight railroads  have also outfitted 34% of their locomotives with PTC.
However, progress varies greatly by railroad. BNSF has equipped 3/4 of its locomotives, while Union Pacific has barely equipped any of its locomotives at this point.
Our View
Our railroad accident attorneys in Virginia hope that more railroads will get PTC implemented as soon as they can. It seems wrong that the technology exists right now to greatly reduce the chances of train collisions and derailments – thereby saving many lives – yet many railroads are dragging their feet to install PTC. 
They may think they are saving money by not installing PTC, but as this $60 million verdict shows, a train derailment can be extremely costly for a railroad, both in dollar terms and in terms of its professional reputation.
A railroad trestle in Wilkes-Barre PA is a public safety hazard that has killed one person and left another person severely injured, according to a wrongful death lawsuit filed in Luzerne County PA this week.
The trestle crosses over East Thomas St. at South Cleveland St. in Wilkes Barre, and has  a large gap between a set of current and former railroad tracks that is a major hazard, according to the lawsuit.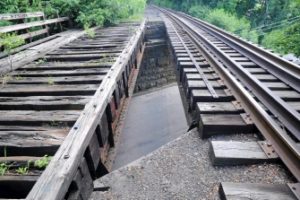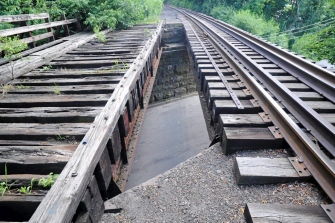 That is where a 29 year-old man died last year. He was riding his dirt bike through the opening at 2 am on April 26, 2015 and fell 20 feet to the ground and died. The owners and operators of the bridge had known it was hazardous since May 2014, when an ATV rider also fell through the hole and suffered serious injuries.
Attorneys representing the widow and her daughter filed the suit against the owner of the trestle, the Luzerne County Redevelopment Authority and Luzerne County Rail Corp.
The attorneys stated that the defendants did not take any action after the first accident to restrict or impede the public from using the railroad right of way, as well as the trestle.
Our View
Fatalities on train tracks and train trestles are far too common, but in our work as railroad accident lawyers, we find that railroads often delay or fight important safety upgrades to save money. We have seen railroads hesitate to spend money on fences, No Trespassing signs, systems that would allow dispatchers to slow or stop trains and more. We advise all railroads to do more to control track access and to improve protections on train trestles for people who live and work near them.
People whose loved ones have died at or near train tracks such as in the above tragedy should talk to a personal injury attorney to determine if the railroad may be held liable.