Home » Posts tagged 'train crossing accident'
Tag Archives:
train crossing accident
When a 30 car train hits a car, the vehicles hit each other with the same amount of force as a car smashing an aluminum can. It is that type of force that leads to more than 2000 accidents with many injuries and deaths at railroad crossings around the country each year. Ninety of those were in Alabama in 2015, according to Alabama Operation Lifesaver. 
Alabama has 6000 railroad crossings and 3500 miles of tracks. This means that drivers and pedestrians encounter railroad crossings every day. Operation Lifesaver Alabama travels the state regularly on a 40 city tour to educate citizens about the importance of railroad safety for drivers and pedestrians.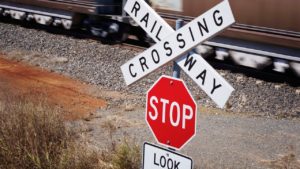 Operation Lifesaver says that it has helped to cut down car/train accidents across the US from 12,000 in 1972 to 2059 in 2015. Even though the number of accidents has declined, Alabama still ranks #6 in the US for the number of accidents each year.
While Operation Lifesaver says it is very important for drivers and pedestrians to pay attention and to stop at railroad tracks, it also is important for railroads to make sure the safety lights and gates at crossings are working, and that the grass, trees and brush are cut so that drivers can see oncoming trains.
Our View
Railroad crossing accidents can lead to serious injury or death. If you or a loved one was in such a railroad accident, we want you to have as much information as possible. There are many federal and state rules that affect the duties and responsibilities of the railroad company and crew that are using that railroad crossing. Some of the accidents that occur at railroad crossings are due to train engineer or railroad company error. 
One area where a train engineer can cause an accident is speeding through a railroad crossing; federal rules limit how fast trains can go through railroad crossings. Also, federal regulations apply regarding when a  horn or whistle must be blasted at a crossing. Further, trees, shrubs and vegetation at a railroad crossing must be trimmed so that drivers have an unobstructed view.
In short, railroad crossing accidents are very complex legally, and anyone in such an accident should speak to an experienced railroad accident attorney. Large settlements are possible in many railroad crossing accidents. 
In early 2016, a railroad worker who had just been briefed on an upcoming assignment was found dead in a restroom, having overdosed on illegal prescription drugs. In the following months, tests that were done after three railroad accidents found that six employees on the trains tested positive for drugs. 
In a report done by the Washington Post, testing in 2016 has shown that almost 8% of workers involved in railroad crashes were positive for various illegal and prescription drugs, including marijuana, cocaine, ecstasy, benzodiazepine, OxyContin and morphine.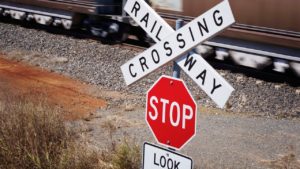 The number of post-crash drug positives was the highest since the Federal Railroad Administration (FRA) started to keep records in 1987. Overall, the number of railroad workers who tested positive for drug use went up 43% in the last year. The number increased to 256 last year from 2014.
After rail crashes in 2014, no workers tested positive for drugs, and only two people did last year. With three months left in 2016, 16 railroad workers have tested positive in tests after railroad accidents.
Railroads transported 565 million passengers and 14.2 million carloads of freight in the last year. Train workers are some of the most heavily drug tested in the US. They are drug screened before they are hired, and they are tested randomly on the job each year.
Still, the report shows that there is strong evidence that illegal drug use is on the rise in the railroad industry. That is why in September 2016, the heads of all major railroads in the US were called to Washington to talk in a closed door meeting about the rise in drug use among rail workers and what to do about it. Officials from the FRA, National Transportation Safety Board and the Office of National Drug Control Policy detailed their concerns about the drug problem and asked the railroads to help them deal with it.
One thing that is being changed is that currently, railroad drug testing is limited to 120,000 workers whose jobs are 'safety sensitive,' or where lives are put at risk in the performance of their work. Train and track repair workers do not have to undergo drug testing. Federal officials want this to change. They want railroads to start testing these workers as well by April 1, 2017, but so far, industry is resisting a deadline that soon; they have asked for a delay in the additional testing for another 14 months.
Our View
Railroad accidents, railroad crossing crashes and train derailments are too common in America. As railroad accident attorneys who handle serious personal injury and wrongful death cases, we hope that railroads across the US will start to do more stringent testing of all railroad workers for drugs.
After all, when a serious train accident occurs, massive injuries can occur, such as in this $60 million verdict our Virginia railroad accident lawyers handled when a train derailed in Manassas VA. If drug testing could reduce the likelihood of this type of train accident, we are all for it.