By Randy Appleton, Virginia Railroad Accident Attorney
A West Virginia crude oil train derailment in February 2015 that caused a fire and forced several hundred people to leave their homes was due to a split rail, according to the Federal Railroad Administration (FRA) last week.
Two CSX rail inspections in December 2014 and January 2015 did not detect the defect in the rail before the derailment on Feb. 16. The FRA stated that broken rails are one of the top causes of railroad accidents. Railroads that move crude oil through communities  have to be as safe as possible, FRA stated that CSX, as well as other railroad companies, must be more careful in their inspection processes.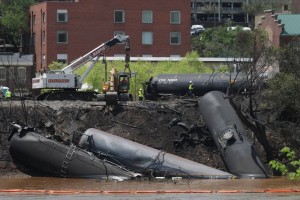 FRA stated that it will mandate that CSX provides inspectors with more access to earlier inspection reports to prevent accidents in the future. FRA also stated that it will look at the need for better railhead wear standards to prevent such derailments.
FRA gave $25,000 fines to CSX and Sperry Rail Service, which is the company that did the inspections. A Sperry Rail Service inspector was reported to have seen the rail fault but declined to get out of his car to look at it.
The derailment outside of Mount Carbon WV caused 27 cars loaded with shale crude oil to fall off the tracks. The oil threatened to leak into local water supplies, and smoke from the large fire forced hundreds to evacuate their homes.
Our railroad accident law firm in Virginia is all too well accustomed to irresponsible train and railroad companies that neglect to ensure that their equipment is in proper working order. This often leads to derailments that cause serious injury. We once had a client whose train derailed, and his body hit metallic parts in the cab. After he left work, he went to the ER because he was having headaches as well as shoulder pain. He started to have headaches often and also tingling in his arms.
It turned out that the accident caused a spinal cord syrinx, which caused spinal fluid to collect beside the spinal cord. Our job was to convince a jury that the derailment led to the injury. It eventually was settled out of court for $190,000.