The Federal Railroad Administration has directed Amtrak this week to conduct an immediate safety review, due to violations that were revealed in the fatal crash and derailment in Pennsylvania on Sunday.
The FRA told Amtrak this week to do a safety stand down, which is a review of all of its work safety protocols with track workers and train dispatchers.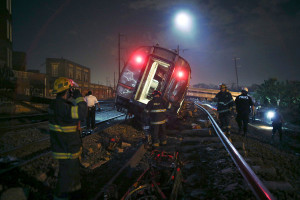 In the crash this week, an Amtrak train slammed into a maintenance vehicle on the tracks in Chester PA, which killed two workers.
The Wall Street Journal reported this week that a very simple safety device could have prevented the deadly disaster. It is a removable circuit that is made to 'shunt' tracks and trigger a red light stop signal. It was not in place, even though Amtrak rules state that it should have been.
Federal investigators are focusing on miscommunication on April 3, as a shift of track workers and supervisors took over for the previous crew. The train that slammed into the backhoe was on an active track that had been 'fouled' earlier, meaning that it had been removed from use temporarily because of a chance that workers on the next track could be endangered as they did their work. Investigators are working to determine how the train was allowed to continue through that stretch of track.
The investigation is ongoing, but they have uncovered several violations of safety rules that are troubling enough for the FRA to step in and demand a safety review.
Our train crash attorneys in Virginia truly regret the loss of life in this preventable train crash and derailment. It is sad that it appears that basic safety protocols were not followed by Amtrak that may have led to this deadly collision. How ironic it is that a railroad managed by the US government does not itself apparently follow its own safety rules issued by the FRA.
Our hope is that the cause of the crash is quickly determined, and that the families of the deceased pursue a wrongful death lawsuit against the responsible parties. When handled by experienced train accident counsel, a train crash and derailment suit can result in multi-million dollar settlements.