The engineer who was running the train in Hoboken NJ that smashed into a busy commuter rail terminal, which killed a woman and injured more than 100, told federal investigators this week that he was only going 10 MPH as he approached the station, but has no memory of the crash. 
The statement from the train engineer, Thomas Gallagher, came as federal investigators discovered that a data recorder on the train that was supposed to record speed and braking data did not work. Investigators say there is a second data recorder but it is under a collapsed part of the station's roof and they cannot get to it.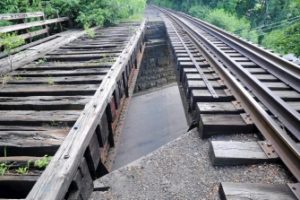 Federal rules require that commuter trains have a functioning recorder in the lead car, and the boxes also are supposed to be inspected each year.
Gallagher stated that he was fully rested and the train was functioning normally last Thursday morning before it crashed. The crash took the life of Fabiola Bittar de Kroon, 34, who was standing on the train platform.
The investigation will continue in the coming weeks, and investigators hope they can get to the second data recorder soon.
Months before this deadly New Jersey train crash, federal rail authorities have found dozens of safety violations in safety audits that focused on NJ Transit's safety and operations.
Our View
From what the engineer is telling investigators, it is possible that he had some type of medical emergency during the crash. Hopefully this will become clearer in the coming weeks.
If he did have a medical emergency in this tragic train crash with death and personal injury, this points to the need more than ever of Positive Train Control (PTC) on all passenger trains as soon as possible. This is a GPS-based safety system that can prevent over speed derailments and train to train collisions.
PTC could prevent many terrible train crashes and derailments, such as this case with serious personal injury in Virginia that we won a verdict for $60 million.
But there's also another possible simple explanation of the engineer falling asleep and having no recollection of the circumstances. Many safety experts have called for no less than two operators or engineers of not only commuter railroad trains, but on freight trains and passenger trains.