A 58 year old woman was seriously injured on Dec. 9 at 8 am when her Pontiac SUV was struck by a commuter train heading towards Boston, Massachusetts. The serious railroad crossing crash happened in Belmont, MA.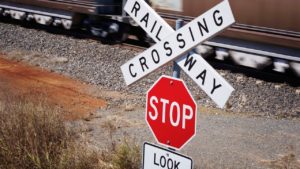 The Massachusetts State Police stated that there were three children in the SUV as well. The six year old was still in the SUV when the train struck it. The woman driver was trying to get the child out when the train smashed into the SUV. She suffered serious head injuries and is in critical condition.
Some witnesses thought that the woman's vehicle may have gotten trapped between the crossing gates at the railroad crossing, but the police are still investigating.
Our View
Railroad crossing accident happen often in America; there is a car/train accident every 12 minutes, according to the Federal Railroad Administration. Our railroad accident personal injury attorneys in Virginia also handle a good number of these accidents, and we agree that there are far too many of them. 
In many of these train/car collisions, the police may be quick to blame the car driver, but these accidents are complicated, and often the railroad and/or engineer is to blame.
In our time working on railroad personal injury lawsuits, we have seen safety gates fail and train engineers either falling asleep or being distracted, leading to a serious train accident at a railroad crossing.
Sometimes there is brush, weeds and trees that have grown up along the tracks and this obscures the driver's vision.
The family of the seriously injured woman should know that this railroad crossing accident should be looked at very closely by an experienced personal injury attorney. The goal is to determine if the engineer or railroad was at fault in the tragedy. Head injuries are extremely serious, and even if the woman driver recovers, she could need hundreds of thousands of dollars to cover medical expenses.