By Richard Shapiro, Railroad Accident Attorney
Only a few railroads will come close to meeting a new federal deadline to install new safety technology that may prevent some crashes. Some of those crashes include derailments due to excessive speed, such as the deadly Amtrak wreck in Philadelphia last May. 
Just three railroads have turned in their safety plans to the federal government. This is necessary before they can place the new technology – positive train control (PTC) – into operation. The railroads are BNSF Railway, Metrolink in Lose Angeles, and Southeastern Pennsylvania Transportation Authority.
Amtrak has not yet submitted their plan, but railroad authorities state that they think PTC will be operating in the Northeast Corridor by the end of the year.
The PTC being put into place uses GPS, wireless radio and computer technology to monitor the position of trains and will automatically slow or stop trains that may derail because they are going to fast or are about to crash into another train.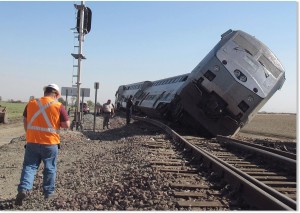 A rail safety law that was passed seven years ago gave railroads seven years to install PTC. The technology is expensive, and many railroads did not move quickly. However, the May 12 Amtrak crash, which killed eight and injured at least 200, has spurred the federal government to start to push rail companies to get PTC installed as soon as possible.
As Virginia railroad accident attorneys, we have seen many train derailments occur due to poor maintenance and lax safety standards on the part of railroad companies. About 40% of train derailments in the US are caused by broken rails and track problems, and many others are caused by excessive speed.
A major union, the Brotherhood of Maintenance of Way Employees Division, called this year for rail companies to do more for rail safety and to keep train tracks in proper repair. This is especially important in the case of oil trains; all it takes is one worn out section of track for a major derailment to occur, and this can be a true disaster when dozens of tankers carrying crude oil are involved.
Some companies have been fighting the installation of PTC on oil tanker cars, which we find to be truly unfortunate. The installation of PTC can not only reduce the incidence of oil trains derailing: It could prevent most derailments, such as the Amtrak crash that took so many lives. We hope that all railroad companies will get on board and get PTC installed as soon as possible, and generally do more to increase the safety of the US rail system.