A man died in Huron Township OH on Nov. 24 after a train smashed into his car at a railroad crossing. 
The man was driving a 2008 Ford van on Rye Beach Rd. in Huron Township when he approached the railroad tracks south of SR 2. He tried to skirt the railroad crossing gates when a Norfolk Southern train slammed into it.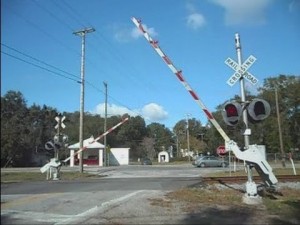 The train pushed the vehicle 1/2 mile down the tracks before it could stop. The man died at the scene.
Police said that it appeared that the crossing gates were working, but the crash is still being investigated.
All too many deadly accidents occur at railroad crossings across our country. If you or a loved one has been injured or killed at a railroad crossing, it is vital to have as much information as possible.
For instance, did you know that there are many strict federal regulations that apply affecting the responsibilities of train crews and railroad companies? These duties include providing adequate warnings that train crews must sound at railroad crossings at proper intervals.
Federal regulations also set maximum speeds for specific sections of track. Regulations also dictate when a horn and/or whistle must be sounded at crossings. There also are strict regulations regarding the maintenance of proper sight lines at railroad crossings; shrubs and vegetation must be cut so that drivers can see oncoming trains.
Our Virginia railroad accident attorneys possess an excellent knowledge of pertinent state and federal laws that are in play in rail crossing accidents. We also contract with retired railroad workers who often investigate the circumstances and accident scene at specific crash sites. Such diligence in our investigations has led to sizable settlements in some railroad crossing accidents. In some of these incidents, we were able to prove that adequate warnings were not provided by the train crew.
Railroad crossing accidents are often complex, and it takes a highly experienced team of personal injury lawyers and railroad experts to ensure that all regulations were followed by the crew and railroad company. When they are not, sizable legal settlements can and do happen, which can help a seriously injured person recover from devastating injuries.