After an Amtrak train derailed last May in Philadelphia, which killed eight people and injured dozens, it appeared that the railroad industry's efforts to delay the installation of safety technology on all passenger trains was at an end.
However, under pressure from Warren Buffett's BNSF Railway Company, the US Congress passed another law that delayed the implementation of positive train control safety measures for at least 36 months.
This technology would automatically slow a train if it were going too fast, such as on a curve.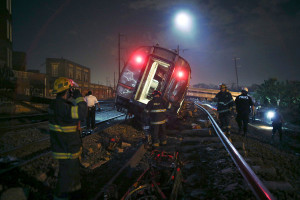 Therefore, railroad companies can delay buying and installing safety equipment that likely could prevent accidents such as the derailment in Philadelphia.
The argument by Buffett's company and other railroad industry advocates was this: If the positive train control technology mandate was not delayed, railroads would purposely slow how they do business due to liability concerns. Their rationale was that if a railroad missed the deadline to install new safety equipment, that company would face serious liability issues because they would be operating outside of law. So, the railroads would then decline to carry both passengers and commodities. They also would not deliver products that are classified as hazardous materials, including ones that are important to US commerce, such as ammonia and chlorine needed for water treatment plants.
BNSF spent almost $4 million to lobby Congress to slow down the safety equipment mandate.
Our railroad accident law firm is hardly surprised that railroad companies have teamed up to delay the implementation of vital safety technology that would save lives. One of our lawyers, Randy Appleton, recently wrote about how money spent to upgrade railroad safety systems is tiny compared to what a major train crash costs.
Appleton wrote that 20 year installation, testing and maintenance costs for positive train control could be as much as $24 billion. However, how much money does it cost when there is a major train derailment that kills and injures scores of people? How much emotional trauma, pain, disabilities, lost wages and loss of work is there when there is another crash?
Our firm's position is that rail companies should install positive train control as soon as possible to reduce the chances of future accidents.