Changes have not yet been made to a railroad crossing in Oakland KY that saw a local man lose his life in a train-car accident in early August 2016. And State Rep. Michael Meredith has taken notice.
Meredith stated recently that the crossing makes it too easy for a train to sneak up on the driver. He noted that you have to be almost over the railroad track before you can look down the line to see if a train is coming.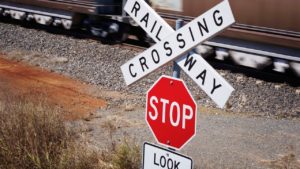 He added that there have been two fatalities at that railroad crossing in the last five years. He is pushing the Kentucky Transportation Cabinet to look at this area of the track.
Railroad crossings across Kentucky are reviewed every few years, but only five crossings per year usually receive funding for any upgrades.
Our View
Railroad crossing accidents are not always the fault of the driver. As a railroad crossing accident personal injury lawyer, I know that railroad companies do not always maintain the railroad crossing as carefully as they should. Sometimes, vegetation will grow up around the railroad track and make it difficult for the driver to see an oncoming train.
Our railroad accident attorneys represented a client in Prince William County VA a few years ago. His vehicle was struck by a Norfolk Southern freight train. The children in the back seat had various injuries, including one who had a skull fracture around his eye.
We examined the scene of the accident, noting that the car driver had stated he had no chance to see the train and could not have avoided the accident. We noted the vegetation, trees and brush at the railroad crossing. We demanded a settlement from the father's insurance company and also from Norfolk Southern. It settled for approximately $125,000.