A railroad crossing in Halifax PA where new mother Trisha Hoffman died on Sept. 4 has been termed 'seriously deficient' by two railway experts interviewed in early September by PennLive.com.
Pennsylvania state law does not require that drivers stop at all railroad crossings. They only must stop for flashing lights, gates, or if they know a train is oncoming.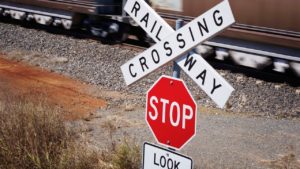 The problem with that railroad crossing at Susqeuhanna Trail Road and Route 147 in Halifax is that it is very difficult for drivers to see that a train is oncoming before it is almost on top of you. That is the opinion of Gus Ubaldi, an airport and railroad engineering expert with Robson Forensic in Lancaster PA.
That railroad crossing also has no stop or yield sign, even though it is recommended by nationally accepted standards for railroad crossings.
Norfolk Southern Railroad uses that track and crossing, but it told PennLive.com that the crossing is public, so that the Public Utility Commission of PA should determine signage and other requirements for it. However, it was determined that the crossing is actually private according to the Federal Rail Administration, so Norfolk Southern would be responsible for safety concerns.
According to Ubaldi, a driver on Susquenhanna Trail Road has to see a train 732 ft. down the railroad track from 70 feet before the car reaches the crossing. But at this crossing where the woman perished, the driver approaching the crossing cannot see anything other than trees and brush. When the driver is able to see a train approaching, the car would already be over the tracks.
Ubaldi stated that in his expert opinion, the deceased driver was not at fault
Our View
Our railroad crossing accident attorneys truly regret the loss of in this tragic railroad crossing accident. Railroad accidents obviously can lead to serious personal injury and death if crossings are unsafely maintained. From the coverage of this Pennsylvania railroad crossing accident, it would appear that Norfolk Southern may not have properly maintained the crossing, leading to a railroad crossing death.
Railroad crossings must have proper sight lines for drivers, with bushes, brush and trees properly cut away from the tracks. If the railroad crossing was improperly maintained, the railroad could potentially be held liable in a wrongful death lawsuit. Our attorneys have worked on million dollar railroad crossing accident settlements before, and we hope this young woman's family considers all of their legal options carefully.