A New Jersey Transit train crashed and derailed as it arrive into Hoboken Terminal just before 9 am on Thursday morning. The rush hour train crash killed one person and injured more than 100. Images posted on social media showed that the train tore through a wall and severely damaged the station, leaving train debris strewn about and twisted metal columns after the wreck.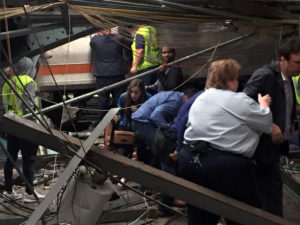 According to witnesses, the train pulled into the station traveling far too fast, overrunning its stopping point. It slammed into a bumper block, went airborne and slammed into a passenger concourse in the terminal. One witness who was in the front car told the media that the train did not appear to slow at all as it came into the station. Another passenger on the train stated that the train did not brake at all when it entered the station.
The woman who died was Fabiola Bittar de Kroon, 34, from Hoboken. She died when she was hit by debris while standing on the platform.
The engineer's name is Thomas Gallagher, 48, and he was treated and released from a hospital. He is cooperating with investigators on the train accident.
Some federal lawmakers said after the crash that positive train control could have helped avoid this tragedy. The system combines GPS, wireless radio and computers to monitor trains and to stop them automatically from crashing, derailing or speeding. New Jersey Transit has not yet installed PTC. The deadline set by Congress to install PTC in all passenger trains has been extended until 2018.
The train's event recorder has been recovered and NTSB investigators are analyzing its contents.
Our View
Our personal injury attorneys send condolences to the family of the woman who was killed in this tragic Hoboken train derailment and crash. It is too early to speculate about the cause of this train accident, but it is alarming that the train apparently did not slow at all as it entered the train station. Whether the engineer fell asleep, was texting on a cell phone or had a medical emergency, there is little doubt that PTC could have prevented this train accident in Hoboken and could have saved a life and prevented many serious personal injuries.
Positive train control has gotten much attention ever since a 2008 Metrolink train crash in California that killed more than 20 people. President Bush signed a laws that required PTC systems to be installed by the end of 2015, but unfortunately, railroads lobbied to get that deadline extended until 2018.
Other safety experts have pointed out that if the railroads or commuter train companies were required to have two crewmembers in the engine or in the forward car, it would prevent tragedies like this where a single crew member gets distracted or falls asleep.
Our hope is that this train crash will serve as a wake up call for railroads to stop dragging its collective feet and get PTC installed on its trains as soon as possible.