In the wake of a deadly commuter train crash in a busy Hoboken, New Jersey train station, New Jersey Transit has approved a budget that includes funding for large parts of positive train control (PTC) system, which would include an automatic braking system that could automatically stop a train in an emergency situation.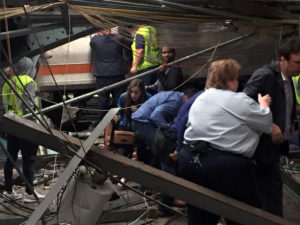 New Jersey Transit approved an agreement for leasing radio frequency spectrum, which is an essential part of a PTC system, to cover northern and eastern areas of the railroad in the state. In April, the transit authority worked out a deal to cover the southern, central and western areas.
NJ Transit has until the end of 2018 to fully implement PTC, per the federal deadline for the installation of PTC on all commuter train systems.
When the commuter train in Hoboken crashed, killing one and leaving 100 injured, the NTSB quickly concluded that an automatic braking system may have prevented the disaster. In that crash in late September 2016, the commuter train was rolling into the Hoboken station at a normal 5 MPH, but suddenly increased speed and crashed into the terminal, spraying debris through the waiting crowds of commuters.
It is not yet known why the train sped up; the engineer has no memory of the crash.
When a train derailed in Philidelphia in May 2015, the NTSB also determined quickly that the derailment would have been prevented by PTC.
Our View
Our railroad accident and railroad derailment lawyers are glad that New Jersey Transit is working on installing PTC on its trains and rail lines. PTC could prevent 52 accidents per year, according to the Federal Railroad Administration. The NTSB also claims that if PTC had been in place, it could have prevented 15 train crashes since 2005 that killed 50 people.
Our personal injury attorneys implore the US and state governments to implement Positive Train Control more quickly. We should be keeping up with countries in Europe and Asia that already have versions of PTC in place.
When train derailments occur, the injuries and deaths are devastating to families. And those derailments can lead to huge personal injury and wrongful death lawsuits that can cost the railroad tens of millions of dollars in a jury verdict. PTC is a smart investment.