A deadly train crash in New Jersey on Sept. 29 that killed one and injured more than 100 underwent a rapid acceleration just before impact as it entered a busy commuter station in Hoboken NJ, according to the NTSB. 
The NTSP stated that the train was rolling into the station at a normal eight MPH, but for some reason, about 30 seconds before the crash, it sped up to at least 25 MPH.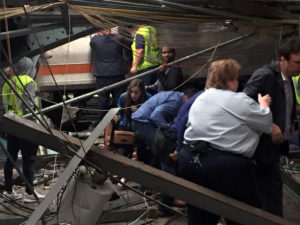 The engineer working the train stated that the brakes were operating normally. The emergency brakes were applied one second before impact.
The NTSB will continue to review the deadly crash and will make safety recommendations to avoid a recurrence. That could take more than a year.
The engineer told investigators that he was not using his cell phone and that the brakes had been checked before the trip. He claims no memory of the crash and remembers waking up on the floor of the cab.
There is speculation that the engineer fell asleep, but the investigation is continuing.
Our View
Our personal injury and railroad accident attorneys hope that this railroad crash in New Jersey will speed the adoption of positive train control or PTC throughout the commuter rail industry. The technology exists now to automatically slow trains that do not stop as they should, or are running well beyond speed limits for given area, but there continues to be delays in implementing this system throughout the country.
With PTC on line, this would prevent many train accidents from occurring, as well as serioius injuries and loss of life that leads to expensive lawsuits.