Work is continuing in Virginia to install Positive Train Control (PTC) onto railroad tracks that experts say could have prevented many recent, fatal train accidents, such as in Hoboken, New Jersey, and Philadelphia, Pennsylvania.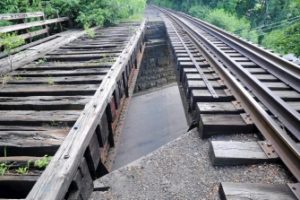 Virginia Rail Express (VRE), a popular commuter rail line in the state and in the metro Washington DC area, stated in early March 2017 that it is on track to have all trains and cab cars outfitted with PTC in the next few months. 
VRE trains are on CSX and Norfolk Southern tracks in Virginia, and Chief Executive Officer of the VRE, Doug Allen, stated last week that the commuter rail line is working with both rail companies to get PTC done.
Allen noted in a press conference that VRE is installing radios and computers, which communicate constantly with the systems being installed on all tracks. Once the system is fully operational, it will be able to stop or slow a train automatically to avoid a train crash or train derailment.
Several recent train crashes on the East Coast have highlighted the need for PTC.
In May 2015, an Amtrak train was going too fast on a curve near Philadelphia. Eight people were killed. In September 2016, a New Jersey Transit train crashed in the Hoboken commuter station, killing one. Many experts believe the train accidents could have been prevented with PTC.
VRE wants to start testing the new PTC systems by September 2017, and hopes to have the system up and running by next year.
Rail operators and rail companies have until Dec. 31, 2018 to have PTC fully operational. 
Our View
Our personal injury and wrongful death attorneys in Virginia are pleased that positive train control is soon to be fully operational on all VRE trains in the Commonwealth. PTC can likely prevent many serious train accidents and derailments that kill and seriously injure many people nearly every year.
Our personal injury rail road accident law firm has handled lawsuits where a train derailed and led to catastrophic personal injuries. Our law firm and co-counsel represented a gas station worker who suffered a traumatic train injury when a Norfolk Southern train derailed and crashed into his workplace.
The man suffered many serious, orthopedic  injuries and brain damage. The train crash verdict was $60 million with interest, and we were proud to get that case resolved so the victim could get the medical care he needed.
If PTC can prevent those types of disastrous train crashes, the system will be entirely worth the cost.