Reports from the Federal Railroad Administration (FRA) show that a Cleveland, Ohio train crossing is one of the most dangerous in the United States.
The FRA report states that the crossing is at the 8200 block of Bessemer Avenue in Cleveland. The report indicates that the crossing is in the top 15 of railroad crossings in the US with 12 or more accidents in the last decade.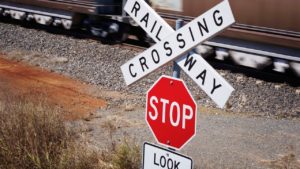 According to nationally recognized railroad safety expert Bob Comer, FRA reports show that 34 accidents have occurred at the crossing since 1980. There was a collision between a car and Amtrak train in December 2015 that had several minor injuries.
Comer noted that Norfolk Southern appears to be in compliance with federal safety standards, but there are still accidents at the crossing for several reasons. He stated that the crossing may need to be redesigned as there is a jog in the road, and there is also a rise in elevation at the crossing. Further there are industrial properties all around the crossing and high brush and trees that affect visibility.
He also stated that there is not enough signage warning about poor visibility at the crossing. Comer suggested that adding a traffic light at the crossing would greatly improve safety. The light would correlate with trains approaching.
According to the Cleveland councilman for that district, the intersection does need more safety measures.
Our View
Our railroad accident personal injury attorneys in Virginia know that line of sight is critically important at railroad crossings. Drivers need to be able to see if a train is coming before they begin to go through a railroad crossing. If their ability to see down the railroad tracks is affected, it can be dangerous to make the crossing.
Many railroad crossings have warning lights and bells to tell motorists that a train is coming. It is not clear if these are featured at the crossing in Cleveland, but clearly, there are line of sight issues and a lack of signs that warn of poor visibility.
Foliage growing around railroad tracks is one of the most common line of sight issues. If brush and trees are not properly cut back, it can lead to serious accidents. Our Virginia railroad accident attorneys hope that improvements are made to this railroad crossing soon to prevent further accidents.
Our railroad crossing accident attorneys have seen cases where poor visibility led to an accident at a railroad crossing. While a sizable settlement was reached, we would like to see fewer of these accidents in the future as localities do more to ensure full visibility at railroad crossings.