A railroad crossing accident that killed a 74-year-old woman in Edinburgh, Indiana is sparking new worries about crossing safety across the state.
The woman, Sharon Gobin, was killed after her car was hit by a train that was rolling through downtown Edinburgh at 1 PM on November 20. The accident is still under investigation, but it has been confirmed that the crossing lights were flashing when the crash happened. 
However, the accident is renewing efforts by some residents to have better safety features at many crossings along the Louisville-Indiana Railroad. Recent upgrades to rail lines have allowed trains to up their speed from 25 MPH to 49 MPH. The 49 MPH speed limit applies to downtown Edinburgh.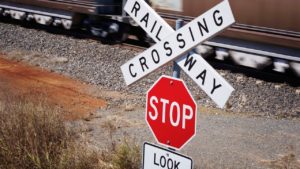 Over the last 24 months, community leaders and mayors have tried to get the US government to force the rail company to upgrade safety features at crossings south of Indianapolis. The mayor of Edinburgh and officials from other towns in the area were able to obtain $5.4 million in funding to pay for better warning signals and related safety features at 20 railroad crossings in Johnson County, Indiana. But that money is not going to be available until 2022. Trains have already up their speeds to 49 MPH, so there are serious concerns that more fatal crashes will happen.
Town officials also noted that they are concerned about the higher speeds allowed at crossings, as well as the limited visibility at several crossings, including the one where Gobin died last month.
Our View
There are nearly 300 people killed at railroad crossings in the United States every year. That is nearly one death per day. Our railroad accident personal injury attorneys in Virginia think that that number could be reduced substantially if there were better safety features at more railroad crossings across the country.
Another major problem with many railroad crossings is poor visibility. It is very common for vegetation and trees to grow up around railroad crossings that make it difficult for drivers to see oncoming trains. It is the railroad's responsibility to ensure that this vegetation has been cut back, but they do not always do so. One of the railroad crossing accidents our Virginia personal injury attorneys handled once involved a man who stated that he could not see the train until the last minute. In that case, we made a demand for settlement from the driver's insurance company and also from Norfolk Southern. That case was settled for $50,000 and $29,000 against the insurance company, and $32,000 and $22,000 against Norfolk Southern.