An overwhelming majority of serious railroad accidents take place on level crossings. According to the Virginia Department of Transportation, Virginia has 9, 409 railway crossings.  Of these, 2,574 private grade crossings, 1,852 public and at-grade, 1,852 grade-separated, and 3,764 closed crossings. A lot of these crossings are not equipped with critical safety features that warn people in the area when a train is approaching. Railway crossings become significantly more dangerous when a conductor neglects to provide a proper warning or a piece of equipment malfunctions. In the collisions that unavoidably follow, people are often severely injured or even killed. If you were injured in a Virginia railroad crossing accident, you should reach out to one of our Virginia railroad accident attorneys for advice. 
The Virginia railway injury attorneys from Shapiro, Washburn & Sharp have been successfully handling railroad injury cases since 1985. Our firm has achieved multiple multi-million-dollar verdicts and settlements in significant railway injury and wrongful death cases. 
Why Are Railroad Crossings so Hazardous?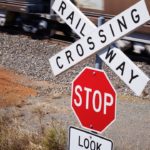 Railway crossings, in Virginia or elsewhere, are very dangerous places. Most rural crossings are not outfitted with warning lights or gates. It is up to the approaching pedestrian, driver, or bicyclist to look out for oncoming locomotives.
After several years of steady decline in the United States, the annual percentage of railroad crossing accident fatalities is on the rise again. Data released by the Federal Railroad Administration show that crossing accidents increased by more than 3% and crossing fatalities rose by over 7% between 2016 and 2017.
Railroad Crossing Negligence
Railway companies and contractors can be held responsible for negligence in a variety of circumstances. Some examples of railway crossing negligence are:
Defective equipment, such as gates and lights

Substandard crossing design that restricts visibility

Too much greenery or foliage obstructing the view of oncoming trains

Inadequate or no track maintenance

Failing to blow the horn or otherwise alert people to an oncoming train

Exceeding the posted speed limit on an approach to a crossing
If you can show that the railway company did not take reasonable precautions to prevent a collision, you may pursue financial compensation for the emotional, physical, and monetary damages you sustained due to your injury. The family of someone who was killed in a railroad crossing accident might be eligible to file a wrongful death suit. A Virginia railway accident lawyer can help you after your crossing accident by establishing what forms of financial compensation you might be entitled to collect.  
Who Is Liable for a Railway Crossing Injury or Death?
The railroad company is not the only party that could potentially face a lawsuit following a crossing accident. Other parties who could be liable include:
The driver at-fault for an accident on a level crossing

The truck driver at-fault for an accident or the company that employs them  

The train driver

The maintenance company responsible for the upkeep of the tracks

A contractor who worked on the crossing

The local agency that designed the crossing

The company or landowner if the crossing is on private land
Based on the details of your railway crossing accident, our Virginia railway accident lawyers can help identify all potential avenues of recovery.
Contact a Virginia Railroad Crossing Accident Attorney
Railroad companies have vast financial resources and teams of powerful attorneys. To ensure their interests are protected, they will do whatever it takes to reduce the compensation you are owed as much as possible or find a way to deny your valid claim altogether. 
Under the Federal Employers Liability Act, the Virginia railway injury attorneys at Shapiro, Washburn & Sharp have handled numerous claims against short-line railroads and big rail companies in states including Florida,, North Carolina, Georgia, South Carolina, Kentucky, and Virginia. 
If you were severely injured in a railroad crossing accident, schedule your no-obligation consultation right away by reaching out to our Virginia law firm. Call us at (833) 997-1774 or use the contact form on our website. 
Related Content