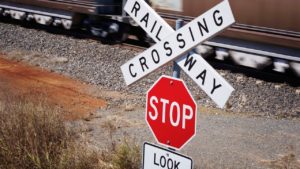 More than 6,700 miles of railroad track exist in Virginia, and those tracks cross thousands of driveways, business lots and private roads. Nearly every one of those private railroad crossings lacks the flashing warning lights and automatic gates drivers, bike riders and pedestrians have grown to expect on public roads and highways. In fact, a majority of private railroad crossings are not even marked with stop signs or crossbucks — those black-and-white x-shaped signs that people can see long before they reach a set of tracks.
LEARN MORE
Still, even as overall freight and passenger rail traffic has increased across the country, the number of collisions at road-level, or grade, crossings has fallen significantly over the past decade. Records kept by the Federal Railroad Administration indicate that 2,041 crashes involving trains going through grade crossings occurred during 2016. Those collisions caused 255 deaths and 843 injuries. A slight uptick in grade crossing crashes occurred in 2017, and deaths and injuries rose to, respectively, 274.
When a collision resulting in deaths or injuries happens at a grade crossing on a public road, the question of which party caused the crash is relatively straightforward. A Virginia personal injury lawyer or wrongful death attorney will ask whether the victim entered the crossing despite seeing warning lights and encountering a lowered gate, or whether the lights and gates worked properly.
Questions over fault at private railroad crossings become much more complicated. First, Virginia law assigns the owner of a grade crossing the legal duty to "take precautions to provide for the safe movement of traffic." Meeting that duty requires doing things like putting up signs, cutting back vegetation to maintain lines of sight along the tracks, and maintaining the roadbed under the tracks so vehicles do not get stuck. If the crossing owner has failed to do these things, the crossing owner can be held liable for a crash.
Then, the issue of who owns the private crossing arises. Railroads must sign contracts with landowners when the company lays tracks through a home's yard or a business' lot. That agreement will assign obligations for maintaining the crossing to either the railroad or the landowner. A Virginia plaintiff's attorney will need to ask for and review the contract to determine which party owed the duty to protect the victim of the train crash.
Last, the Virginia railroad crossing crash attorney must confront questions related to contributory negligence. Virginia is one of just four states that block insurance claims and personal injury or wrongful death lawsuits when the victim can be found even one percent responsible for causing a crash. A Virginia case that focused on this issue determined that drivers must expect that tracks exist and have reason to believe that a train may be coming in order for a court to find contributory negligence.
EJL