While far from the most common kind of motor vehicle accident in Virginia, a collision involving a train and an automobile is usually catastrophic. Victims frequently suffer devastating injuries, such as paralysis, traumatic brain injury, internal organ damage, and traumatic amputation when a locomotive crashes into their vehicle. If this happened to you, you could be entitled to financial compensation for your injuries and other accident-related damages if you can show that the railway company or its workers were responsible for the accident.
What causes most train vs car accidents in Virginia?
If you sustained injuries when a train struck your car, you need to speak to one of our Virginia railway injury lawyers for advice. The Virginia railroad accident attorneys at Shapiro, Washburn & Sharp have been achieving successful outcomes in railroad injury cases for almost forty years. Our firm has won numerous multi-million-dollar verdicts and settlements in noteworthy railway injury and wrongful death cases. Call our Virginia Beach law offices today to schedule your free consultation with one of our lawyers. 
Five Leading Causes of Train vs Vehicle Accidents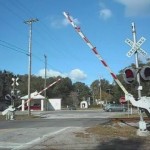 Many train and car accidents are the result of impatient motorists who think they can simply drive around lowered wishbone gates or drive fast enough to beat the train to the crossing. However, a lot of these avoidable collisions are also caused by conductors, engineers, railroad companies, and train maintenance workers. 
Some common forms of negligence that often lead to train vs car accidents include:
Obscured Grade Crossings
Signals and grade crossings and signals can be extremely difficult for motorists to see if foliage and vegetation are permitted to grow unchecked and eventually conceal the grade crossing.
Lack of or Improper Maintenance
If the train is inadequately maintained, or not maintained at all, important equipment such as the brakes will eventually malfunction. The railway company could also be held responsible if they neglect to properly maintain the gates, signals, or tracks, and this lack of or improper maintenance leads to an accident. 
Speeding
When a train is driven at excessive speeds, the engineer or other worker can easily lose control of the train or find that they are not able to stop or slow down in time to avoid an accident should it become necessary.  
Distracted Train Operators 
Just like the driver of a passenger vehicle, a distracted train operator can cause a serious or even fatal accident. Making phone calls, sending text messages, filing out paperwork, fidgeting with controls, switches, and gauges, and watching the landscape chug by are just a few common forms of distracted driving that can result in a train operator taking their hand off of the controls ad their mind off of the task at hand.  
Fatigued Train Operators 
Railway workers often work long, grueling hours and have very little time off to rest and recuperate. As a result, they can easily become fatigued while they are working. The potential consequences of drowsy driving by an overly-exhausted train conductor or engineer can be fatal if they fall asleep while operating the train.  
Contact a Virginia Railroad Crossing Accident Attorney
Train companies have extensive economic resources and powerful attorneys on their side. To make sure their interests are covered, they will try anything to lessen the amount of financial compensation they have to pay you or figure out a way to deny your claim entirely. 
The Virginia railroad injury attorneys at Shapiro, Washburn & Sharp have decades of experience in handling claims against rail companies of all types in several states along the east coast. 
If you were severely injured in a railroad accident, schedule your free case review now by reaching out to our Virginia Beach law firm. Call us at (833) 997-1774 or use the contact form on our website.
Related Content