After a five day trial in St. Francois County, Missouri, the jury awarded $4.4 million to an injured BNSF Railway worker.
According to the lawsuit documents, Rob Hays from Raymore MO was working for BNSF operating a weld truck with a rail replacement crew along the Mississippi River north of Ste. Genevieve.
He was driving the truck with a remote control device while standing on a platform on the truck's side. Rocks from a bluff near the tracks had fallen and were piled up next to the tracks, which is a violation of the clearance standards of the railroad. They struck the bottom of his platform and he was knocked off and dragged on the tracks.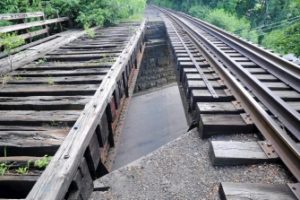 He suffered a broken pelvis and hip and had to have part of the small intestine removed. The man no longer can do the heavy work of his old job but he can currently do office work.
The railroad stated that the worker was at fault, but the jury found BNSF 100% at fault. They also found that the railroad had broken a rule by the Federal Railroad Administration that mandates handrails on the platform.
Our View
Our railroad injury attorneys frequently represent workers who have been hurt on the job. It is hardly uncommon for the railroad to deny responsibility for the worker's injuries. It usually takes the expertise of experienced and aggressive FELA attorneys to get the worker the compensation he deserves.
We had a railroad worker client who suffered serious back injuries when his foot fell into a depression in the ballast rock along railroad tracks he was walking beside. Our legal team was able to show that the track was improperly constructed, which led to the railroad ties creating small voids in the ballast rock profile. The railroad claimed it did not know about this problem but our lawyers were able to settle this tough case for $900,000.