On June 3, a crude oil train derailed in Mosier, Oregon, spilling thousands of gallons of oil and causing local residents to evacuate.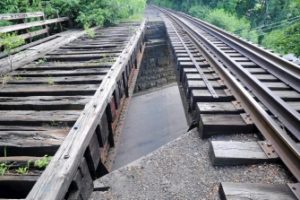 The 16 car derailment in Oregon was caused by a set of broken bolts that were missed during a routine inspection by a track inspector with the Oregon Department of Transportation.
ODOT recently concluded that several lag bolts that fastened rail lines to the ties had sheared off and rusted over several years. The inspector simply missed them.
The trains are owned by Union Pacific Railroad and its own inspectors passed over those same bolts several times. 
The accident shows that some simple steps could have prevented the derailment. For example, if the inspectors from Union Pacific or from the state government had walked the stretch of track rather than just driven over it in a truck, the accident could have been prevented.
The unseen bolts have exposed what some experts say is a major flaw in national railroad inspections. Federal requirements give the railroad leeway as far as how they inspect the track and government checks are rare.
The Federal Railroad Administration blames Union Pacific for the accident and is considering enforcement action against the company. The FRA stated that broken lag bolts can be spotted by inspectors if they walk the tracks instead of drive. Regulators add that walking the curved sections of track is an especially good idea but Union Pacific does not do so.
The FRA stated after this accident that it expects railroads to go beyond its minimum inspection requirements to ensure track safety.
The railroad industry states that 99% of hazardous material shipments arrive safely, but there have been two dozen crude oil spills by rail on the last few years in North America. Most of them were caused by back track, which highlights the need for safety inspections to be stepped up.
Our View
Our train accident attorneys in Virginia are glad no one was hurt in this oil train derailment. We are very familiar with how railroads will sometimes cut corners to increase profits. We wish that railroads would do a better job with inspecting tracks so that there are fewer serious train derailments.
While inspections cost money, train derailments cost more, and lead to serious injuries and death. We won a $60 million jury verdict in Manassas VA where a train derailed and crashed into a gas station, causing serious brain injuries for a worker there. We eventually proved that Norfolk Southern was responsible for the accident.