No one can feel completely safe when a train goes off the tracks. "Train wreck" did not become shorthand for a disastrous situation for no reason.
As Virginia-based railroad injury lawyers for going on 40 years, we have seen firsthand some of the worst results from train derailments. We helped several victims of the Norfolk Southern chemical train crash in Graniteville, South Carolina (SC), that released a massive cloud of deadly chlorine gas. We also secured a $60 million award for a man who suffered permanent brain damage after a train literally flew off its tracks and crashed into the gas station service building in which our client was working.
LEARN MORE
The people most likely to get injured or killed in train derailments are, of course, crew members, track workers and rail yard employees. When on-the-job accidents occur, railroad staff have undeniable rights to file claims for the payment of medical bills, lost wages, disability costs and, in the worst cases, funeral expenses and wrongful death settlements.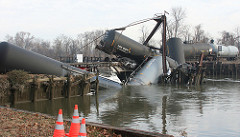 Railroad workers who get hurt or killed while on duty are covered by the Federal Employers Liability Act. Usually shortened to FELA, the law does much of what state workers' compensation laws do for workers in other industries. The biggest difference is that when a railroad refuses to settle a work-related injury or death claim, the rail employee or the employee's family must file a federal lawsuit. The case itself can be heard in a state court, but it is essential to hire an attorney who has national experience with handling FELA lawsuits.
A few reasons for this include the following:
Federal safety laws control the actions of railroads and violating those laws automatically creates liability.
Obtaining critical evidence and company records often requires filing requests under the federal Freedom of Information Act.
How to identify the types and locations of records and evidence that might be destroyed or lost will not be obvious to someone working their first FELA case.
Most railroad companies operate across state lines, giving them resources a law firm that only takes local cases will lack.
Perhaps most importantly, knowing the railroad company usually proves invaluable in successfully countering the arguments and obstructionism of the defense team in a FELA lawsuit. An attorney who has spent decades fighting for the rights of rail employees will have many connections inside a company who can confirm details about a derailment and corporate policies and procedures. An experienced FELA attorney will also be able to call upon a broad range of experts to conduct investigations and testify on his client's behalf.
If you need information regarding your legal rights after any type of railroad accident involving injuries or deaths from a train derailment, crash or release of toxic chemicals, please contact our law firm for a free and confidential consultation.
EJL